George Gregory outside one of his poly tunnels. The Palm House is a ruthlessly uncompromising 'no frills' nursery. Its core feature of fundamentalist minimalism gives it a quality no amount of city capital could even begin to create.

The Palm House - the Trachycarpus wagnerianus specialists

Postal Address: 8 North Street, Ottery St. Mary, Devon. EX11 1DR, UK
Tel: 01404 815450
Mob: 07815 673397
george@thepalmhouse.co.uk
http://www.thepalmhouse.co.uk
Mail order nursery open by appointment only.

Visiting nurseries is a great voyage of discovery. Whilst the final objective of the undertaking may be merely the purchase of a plant the journey towards that plant provides a delightful experience which extends far beyond the acquisition itself. This is especially true of the distinctive nursery the Palm House. I therefore urge anybody reading this review and requiring quality palm trees to disregard any idea of purchasing online or via mail order. By all means consider use this method if you are more than one hundred miles away (the Palm House web site is fully geared up for online ordering) - otherwise make an appointment over the telephone with George Gregory and pay a personal visit to the Palm House. You will not be disappointed.

I never did find out whether the name 'Palm House' was inspired by the Decimus Burton's splendid iconic glasshouse at the Royal Botanic Gardens in Kew. However, while the content of the two places may be similar, the appearance most certainly is not. Nevertheless, the Palm House Devon is set in some of the most beautiful Devonshire countryside imaginable. It lies a couple of miles south-east of Ottery St Mary at the base of the wooded escarpment known as East Hill. It is approached by means of narrow lanes which wind their way between restored Devon cottages, farms and fields and is recognisable as a ramshackle collection of poly tunnels, Trachycarpus palms and compost containers in the far corner of a farmer's field. The view from the site is magnificent and stretches for many miles towards the west and on a fine day the Dartmoor peak of Haytor can be seen over 25 miles away.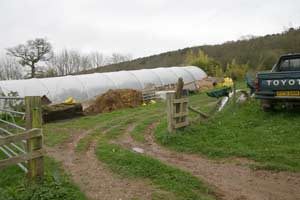 The main (and only) entrance to the Palm House, Devon. Let this minimalism not mislead you...
The silvery leaves of a
Sabal minor
growing in one of George's poly tunnels. Like all of the palms at the Palm House, this one was grown from seed collected by George himself.
Immediately on arrival at the metal-barred farm gate it becomes clear that this is a nursery like no other. To say that it is a 'no frills' establishment does not even begin to do it justice. We wander in, past a fine heap of manure on our left and negotiate a few obstacles behind the first poly tunnel. The impression is that any strictly non-functional feature had been mercilessly abandoned long ago or, more likely, had never been there in the first place. The emphasis was squarely on plants, in this case on Trachycarpus wagnerianus, and on plants alone.
Very soon George surfaced from amid the luxuriant foliage and greeted us with an endearing and welcoming smile. I remembered that to come to this place many palm enthusiasts both from the U. K. and from abroad sometimes had to travel immense distances: because of its reputation for price, quality and service, but not only. The place has an unbeatable charm and George Gregory is part of that charm. His ability immediately to engage with his customers would be difficult to beat.
What is the secret of the Palm House? George explains that his main product is Trachycarpus wagnerianus, an exceptionally hardy fan palm which is also robustly wind resistant and has a strikingly elegant outline. Indeed, most palm enthusiasts including myself would rank it as the 'best' palm for growing outside in the U. K. and also possibly in the cooler part of continental Europe. T. wagnerianus, often referred to as a 'Waggie', is a dioecious palm - male and female flowers are on different plants - and George has some mature male and female specimens growing in the open. Using pollen from the males he pollinates the females by hand and sows the ripe seeds in pots placed in the poly tunnels. After four years the seedlings are planted directly into well-dug and well-manured soil in the poly tunnels. Apart from watering and occasional weeding, these palms are left to their own devices until such a time that either they have reached a sellable size and are potted or a customer requires one to be dug up with a large root ball. Such a method produces first-class plants and, when dug up directly, plants that can be delivered and replanted with the least damage to the root system. George will also deliver personally within the local area and will additionally advise and aid in planting. Deliveries in the rest of the U. K. are by courier.
The Palm House was started on the present site twelve years ago. At the time George planted a few 3 or 4 year old Trachycarpus wagnerianus which were later to become the 'breeding herd' for the nursery. Their descendants now populate the poly tunnels. At any given time George has several thousand Trachycarpus wagnerianus in preparation as well as other species of Trachycarpus not to mention other palms, bamboos and other exotics at the Palm House. What is especially important to customers is that both prices and quality are amongst the best around and anybody requiring Trachycarpus wagnerianus in particular either retail or in bulk should make the Palm House his first port of call. Such prices are possible as a result of the severely functional nature of the nursery and the lack of personnel, other than George. For those seeking bargains there are almost always special offers or collections available as well as occasional surprise items not mentioned on the web site.
Some of the species of palm available are difficult to obtain elsewhere and most, here I speak from experience, are hardy in the South-West at least. With the fifteen or so species of listed, most enthusiasts would find enough material to kit out a hardy backbone for an exotic garden.
| | | |
| --- | --- | --- |
| | The seedlings are initially grown in pots for four years (left, top) after which they are planted out in the poly tunnels (left, bottom). When they have reached a required size they are dug out and potted (above). Larger plants can be dug out as and when required. A Trachycarpus wagnerianus ready to be 'undercut' and delivered to a customer (right). The maximum practical size of plant is one metres of trunk (giving ann overall height of about 2 metres) - anything larger poses practical problems because there is no access for special lifting and transport equipment. A root ball of this size carefully transported and re-planted gives the palm an excellent start and is the mark of a quality supplier. | |
| | | |
| --- | --- | --- |
| George Gregory gathers seed from his home-grown Trachycarpus wagnerianus seen here growing outside his poly tunnels. The seedlings are later planted in the soil in the poly tunnels and dug up as required. | A Tetrapanax papyrifer 'Rex' stock plant growing in one of George Gregory's poly tunnels. | George points out a curious characteristic of some palms: a new plant begins to grow parasitically on the trunk of the main plant and eventually takes over leaving the shriveled remains of the original. |
Post scriptum
It is probably worth mentioning that the Palm House is one of the few nurseries which carries a stock of what is one of my favourite palms: Chamaedoea radicalis. This is a small feather palm, ideal for mid-level ground cover but a very beautiful plant in its own right. Palm House prices for this difficult to find palm are excellent and the quality no less so. To check availability telephone George Gregory at the number given above. As if this is not enough, George also has a number of Umbrella Palms (Hedyscepe canterburyana). This feather palm is native to Lord Howe Island and is related to the genus Rhopalostylis. Unfortunately it is not hardy but, because it is slow-growing, it makes a good indoor or conservatory palm.
March 2012