THE GARDEN AT SOUTHERN COMFORT
THE NATIONAL GARDENS SCHEME
Patron: HRH The Prince of Wales
The National Gardens Scheme was founded in 1927 and raises funds by opening gardens to the public throughout England and Wales.
2012 Open Days: Sunday/Monday 3/4 June & Sunday 16 September - 2.00-5.00 pm
OPEN DAY DETAILS
The garden at Southern Comfort will be open to the public under the National Gardens Scheme on the days mentioned above. There will some plants for sale but subject to availability. Visitors please note that the garden contains a few dozen steps and is not suitable for young children, the disabled and dogs. Please call Dr or Mrs Pomian at 01803 201813 with any queries. Entry £2.50. On 16 September Southern Comfort is open jointly with Steven and Susan Tiller's garden at 4 Wellswood Heights . The entry for both gardens purchased together is £4.00. Teas will be available at 4 Wellswood Heights.
Each of the two gardens explores the theme of growing exotics in our South-West climate. At Southern Comfort we use plants and their positioning to evoke an atmosphere of warm and balmy lands while Steven Tiller's successes consist of growing a very large variety of exotics which, according to general views, are 'impossible' in our climate.
The two gardens are 15-20 minutes' walk apart (about one mile).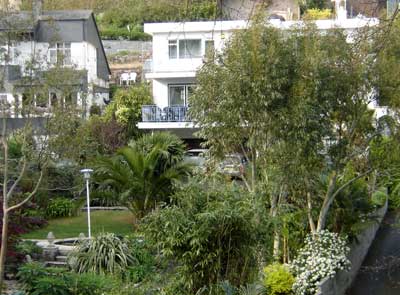 Southern Comfort, Spring 2007
Visits are also available by appointment. There will be no refreshments and there may be no plants for sale. During March-June and September-October only. Please note that after September the garden may not be at its best. Maximum in group 15 persons, minimum 5 persons.
OPEN DAY 3/4 JULY 2012 - SPECIAL FEATURES
The Mediterranean Area in the top garden is now open to the public. This section of the garden slopes steeply at an angle of around 30° in a southerly direction. This angle ensures optimal light and heat capture for plants with high requirement for both. There is a small greenhouse built against a retaining wall, a small terrace and some terraced beds.
Much of the planting is very recent and therefore still treated as experimental. Of interest here are the following: the opuntia bank, a collection of aloes (some in the greenhouse), small citrus plants (mandarin, lemon and orange), a few still immature puyas and, not least, an excellent view of the Meadfoot Valley. Many succulents are growing in stone walls.
Last year at around this time we had flowers on several Tillandsia aeranthos and Tillandsia bergeri - both growing on a Cordyline australis by the steps to the front door of the house and also on another by the compost heap. Although we have had flowers before, we were surprised that the plants survived the low temperatures which the last few winters threw at us. The mildness of the 2011-2012 winter may contribute to better blooms on these plants this year.
DIRECTIONS

From Torquay harbourside clock tower take road (Torwood Street) uphill towards Babbacombe. Turn first right at lights. Follow main direction (Meadfoot Road) uphill. After brow of hill Southern Comfort is 200 yds on left (opposite the Clevedon Hotel). If you arrive at the Osborne Hotel or the beach, you have gone too far. There is car parking in the road by Southern Comfort or there is a P&D Car Park 200 yds down the hill. Public conveniences are at the bottom of the hill by the beach (300 yds). Rough town plan.
DESCRIPTION (as given in NGS Guide)
¼ acre town plot, part-naturalistic planting; exotic/tender species rarely tried outside. Palms, ferns, agaves, aloes, bromeliads, aroids, & numerous individualistic plants grow in the exceptional microclimate of Meadfoot Valley. Variety of microhabitats; spring-fed pond and rill; emphasis on foliage; specimens; recommended for exotica enthusiasts. Featured often in local press.
PLANTS AT THEIR BEST DURING THE OPEN DAYS

We try to open at times when the state of the garden is at a 'high point'. At Southern Comfort their are two main 'high points' during the year: one in late spring when the foliage is at its freshest and the blooms are at their maximum and another in early autumn when most of the exotic foliage is at its maximum before becoming shredded by the winds of mid to late autumn. Click here to see a rough list of most of the plants contributing to the late spring (early June) display. However, whether a particular plant will perform on the day of the opening is never certain.
PAST OPEN DAYS
NGS 14 June 2009
The day was sunny and warm, there were 73 visitors, £225.48 was collected and the day was enjoyed by all who came. We thank all of you who came for your support and look forward to seeing you again in the autumn. Advance publicity for the Open Day was not as good as expected because, firstly, the NGS omitted to mention the garden web site in the handbook and, secondly, the local newspaper 'forgot' to include an article about the garden during the run-up week. However, Sue Bradley from Amateur Gardening magazine visited the garden and a feature article is forthcoming.
A couple of interesting comments during the Open Day:
1. 'I bet you're now regretting plants these gum trees!' 'Well, no I am not. They give me and my visitors endless pleasure and are one of the main assets of the garden.'
2. 'What do you do with all this compost?' (No sensible answer to this one.)
NGS 20 September 2009
With an excellent feature article in Amateur Gardening (Susan Bradley) and an excellent write-up in the South Devon Herald Express (Tina Crowson) there was more first-class publicity than could reasonably be hoped for. There were 214 visitors including Steven Tiller (who has opened his garden at 4 Wellswood Heights on several occasions), Susan Wills-Pope (of Susan's Flower Shop fame) and Chris Britton from High Garden, Kenton (plantsman's nursery and garden, also open under the NGS). Net proceeds of £703.07 were sent to the NGS. We thank all who helped and all who came.
NGS 4 July 2010
Early that day there was a slight worry as to whether it would rain but this proved to be unfounded. Although the garden was in top form and no-one would have noticed any marks left by the previous winter the turnout was a disappointment. The local paper, the Herald Express, despite having been sent a comprehensive Press Release and having bee subject to two telephone calls omitted to give the opening a mention. This, together with the concern about the weather, affected the attendance but none of those who came was left disappointed. There were 53 visitors and the net proceeds were £193.05. This was approximately one quarter of the previous Open Day's proceeds.